We at DBD Lean take immense pride in the feedback from previous lean projects. As such we take pleasure in sharing with you a sample of these words from people that have valued our contribution to their success.
Please note that Dove was formed by consultants with many years experience in the lean consulting sector.
The testimonials we share with you are from our individual work with clients, but not all necessarily whilst as Dove consultants.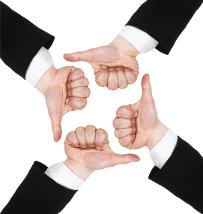 A Professional recommendation for Malcolm Hall
"Malcolm was employed on a consultancy basis by Caterpillar at it's Stockton facility to help with lean deployment. His specific project was based on increasing throughput by 25% inside an 8 week period, using the same floor space and headcount.
Malcolm's focus was on real change at the shop floor level, caring more about bringing about a mindset change rather than just deploying lean tools. However, during the project he did leave a legacy of lean principles that he introduced included visual factory, Flow and Line balancing, continuous maintenance, no defects forward, in-station quality validation, issue escalation.
To ensure a successful project outcome, Malcolm demonstrated his flexibility by being able to work with all levels of our business, from boardroom to factory floor and ensuring the message was delivered across 24/7 operations.
This experience gave us a great foundation on a path to a sustainable lean business. Since this deployment, our factory and product base have changed many times. Each time we find ourselves referring back to the principles taught to us by Malcolm."
M Walkington,
Operations Manager
BCP Stockton
A Professional recommendation for Malcolm Hall
Sean Swain
Major Trans-Atlantic Airline
"I worked with Malcolm Hall for two years as part of a deployment of some lean tools within our aircraft MRO organisation.
Throughout this time I found Malcolm to be very knowledgeable and experienced in deploying the tools and techniques, all the time gaining the "buy in" of staff. Dealing with resistance and objections in a delicate yet robust way, he had a natural ability to overcome these obstacles, and engage with individuals at all levels, quickly gaining their trust and respect.
Through Malcolm's efforts we have successfully embedded the use of these tools and techniques and delivered a step improvement in the performance of our organisation.
A thoroughly professional individual who is an expert in his field, I would have no hesitation in recommending Malcolm to those interested in using his services."
Personal Feedback from Sophie, Government Department Lean Project
"I have worked with Malcolm for 6 months on the DWP LEAN initiative. During this time Malcolm has led the team to successfully implement both process improvements and a LEAN culture.
He has been a driving force in ensuring the LEAN were adopted and his subtle but determined approach meant the team continued according to plan – never taking the easy option or giving up.
Malcolm used his wealth of knowledge and experience to upskill the team, choosing different examples from his past to get the messages across.
From a personal perspective Malcolm has coached me all the way through this project, helping me to develop my knowledge of both LEAN and consulting. He has a patient and calm outlook, is very approachable and can judge a situation quickly and accurately.
Malcolm has provided an appropriate level of management support, ensuring I have enough guidance to add value to the project without inhibiting my opportunities to lead in some areas.
Malcolm is a true team player who has a professional approach, building confidence and relationships quickly. Malcolm keeps things fun whilst working at a fast pace, I would welcome the opportunity to work with Malcolm again in the future."